By Angeliki Tzouganatou
This past summer semester from April to July 2019, the Institute of European Ethnology/Cultural Anthropology at the University of Hamburg, a POEM beneficiary, held a colloquium on ´Open Knowledge in the heritage sector: Reflecting dissemination, interpretation and accessibility of knowledge ́. It had the format of public lecture series, addressing both undergraduate and postgraduate students, as well as the Institute's staff and the interested public and it took place once a week for two hours.
It aimed to critically reflect on crucial issues that have emerged in recent times through digital platform ecologies, concerning the openness of cultural heritage knowledge, as well as initiate a constructive discussion on this prominent topic. It shed light on meaningful public engagement practices, creative participatory practices with audience, as well as the emergence of new economic and social models, in an effort to cope with the growing inequalities that digital technologies have brought in relation to the wealth distribution (Pollock, 2018).
It was coordinated by myself, Angeliki Tzouganatou, as part of my POEM PhD research project, looking into the conditions of openness of cultural knowledge, and the emergence of new open business and social models.
The colloquium in a nutshell
In order to cover the whole spectrum of these above-mentioned issues, the colloquium was divided in four thematic topics; Introduction, Opening up the term open, Opening up for creative reuse and Future opportunities: new business and social models.
In the Introductory session, comprised of two sessions lectured by myself, the focus of the discussions was around the issues of open knowledge in the pre-digital era, as well as copyrights. Is open knowledge solely a digital-age-achievement, or did it exist in the pre-digital era as well? Museums and libraries have always been agents for transmitting open knowledge ideas.
Following, the thematic topic "Opening up the term open" kicked off with a thought provoking discussion between Dr Antje Schmidt, Head of the Digital Cataloguing Department of the Museum für Kunst und Gewerbe Hamburg, and Philipp Geisler, product developer at aidminutes, and also a member & former LabLead of Code for Hamburg. The discussion emphasized in the transition from accessibility to access and from open data to open knowledge in the Galleries, Libraries, Archives and Museums (GLAM) sector, while highlighting the need for public domain. Moving to an accessible model requires first and foremost the inclusiveness supported by equity. Yet how can knowledge be fair? Dr Ingrid Dillo, Deputy Director at DANS (Data Archiving and Networked Services), and one of the authors of the FAIR (Findable, Accessible, Interoperable & Re-usable) guiding principles (Wilkinson et al, 2016), discussed and reflected on them: "FAIR data: from FAIRytale to FAIR enough", a codex of data use (Fig. 1). She provided practical guidelines regarding the implementation of the principles and ways of assessing and evaluating the FAIRness of existing data, where you can access here.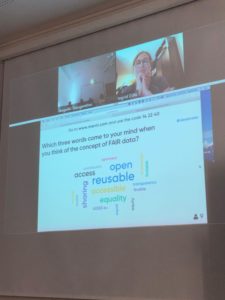 Figure 1: Dr Ingrid Dillo joined us via Skype (Photo: Angeliki Tzouganatou).
The next topic, "Opening up for creative reuse", was inaugurated by Douglas McCarthy, Collections Manager at Europeana Foundation, with his talk ́Open: Enabling Creative Reuse in GLAM´. Drawing for three examples of creative reuse at Europeana, Visions of War, A Season of Women in Culture and Technology & GIF it up, Douglas stressed how openness & re-use enables public ́s participation to cultural heritage projects (Fig. 2). He also foregrounded ethical matters in GLAM. Intellectual Property (IP) rights shouldn´t be another way of taking control; How do Western concepts of IP match with indigenous peoples' rights on their works?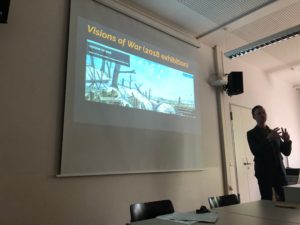 Figure 2: Douglas McCarthy speaks about the "Visions of War", a Europeana project (the photo was taken by the author). 
Antje Theise, Rare Book Librarian at the Hamburg State and University Library (Stabi), supported the topic with her talk "Open Cultural Data initiatives for creative reuse at the Stabi." Inferring from the Stabi´s initiatives & collaborations, such as Coding da Vinci hackathons, KollekTOURmat & Chronoscope Hamburg, aiding to cultivate the notion of creative reuse, she argued that there is a need for a shift to take place in openGLAM sector. This is the transition from ́If it isn't online- it doesn't exist ́ to ́If it isn't open for free use and reuse it doesn't really exist ́ (Fig. 3), highlighting the importance of re-use as an instrument of meaningful engagement and innovation, while enabling participation.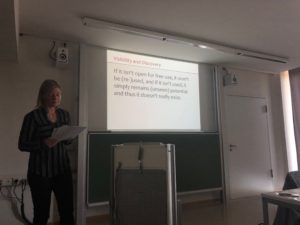 Figure 3: Antje Theise on the notions of openness and reusability (Photo: Angeliki Tzouganatou). 
On the other hand, Sandra Trostel, independent filmmaker, creative storyteller and researcher challenge us to think out of the box, by embracing Hacking as a mindset to open up (Fig. 4). Are you looking at the problem in a particular way that limits your views? Hack your minds to find solutions and work more on open knowledge to achieve a change of mindset. Sandra discussed her documentary & transmedia project "ALL CREATURES WELCOME" as a case study, which is freely available under a Creative Commons license (CC-BY-NC-SA), concluded that there is a need to work on solidarity and collectiveness.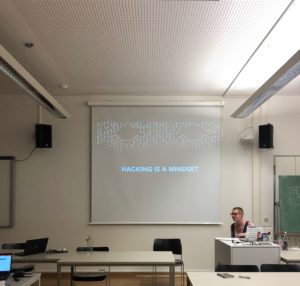 Figure 4: Sandra Trostel discusses Hacking as a mindset to open up (Photo: Angeliki Tzouganatou).
Moreover, understanding the need for new models to be emerged, in relation to cultural heritage platform economy, the colloquium concluded with the block of sessions "Future opportunities: new business and social models." During the first session, I discussed MyData Global Network as a case study, where I am affiliated with the Network due to my secondment's involvement in Open Knowledge Finland. MyData is a model for fair and human-centered personal data management and processing. The discussions focused on the role of cultural heritage data as an empowerment tool, and as well as issues around ownership, in the light of adopting a sustainable human-centred approach to cultural heritage management. Furthermore, Lambert Heller, Head of Open Science Lab at TIB-Leibniz Information Center for Science & Technology, reflected on issues around ownership in platform economy at his talk "Who owns research after all? Legacy publishers transforming from subscription monopolies to research intelligence platforms, and how VIVO and P2P governance models might still disrupt them." (Fig. 5).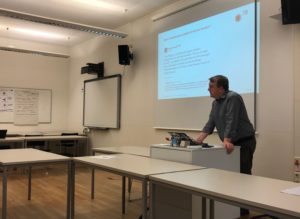 Figure 5: Lambert Heller reflects on Open infrastructures (Photo: Angeliki Tzouganatou).
Future potentials
The colloquium aided to better articulate the gaps of my research addressed in a trans-disciplinary approach, towards a more comprehensive understanding of its current status quo, while leading to the next steps of the research and its needs. It also helped me to create a network of people and formulate future synergies. In addition, it gave me the great opportunity to teach, and reinforcing new research ideas, by working with the students on these issues and being involved in discussions with the invited speakers as well.
As, in the digital world, technological advances changing the public realm, and we should develop such mechanisms and infrastructures in order to be relevant (Simon, 2016), engage the public and support the formulation of a common, collective memory. GLAM institutions should embrace openness and consider Public Domain as the default, while going through copyright clearances process, and encourage licenses instead. Hence, with licensing policy, GLAMs will be able to enable public ́s creative participation and meaningful engagement in knowledge production.
Although research infrastructures are challenged on so many levels, including in a cultural, economic and social level, there isn't merely a technological solution, but rather to work collectively for building open, reconcilable and user-centred social infrastructures.
The PhD research will be enriched over the course of the next two years within the POEM Network, with continuous training and conducting a secondment in Open Knowledge Finland as well.
References
Pollock, R. (2018) The Open Revolution. Rewriting the rules of the information age. ARTEATHTECH
Simon, N. (2016). The art of relevance. Santa Cruz: Museum 2.0.
Wilkinson, M. D. et al. (2016). The FAIR Guiding Principles for scientific data management and stewardship. Scientific data, 3. [Online]. Available at https://www.nature.com/articles/sdata201618 [Accessed 1 May 2018].