By Andrew Hoskins
Individual human memory has long been seen to have been supported and strengthened by the storage, representational, reproductive, and connective capacities of technologies and media of the day, all external to the self. But today the idea of an active, willed, functional, deliberating human memory as fundamentally part of human identity, that functionally changes with time, is threatened by a shift from a healthy reliance to a dependency, an addiction, a placing of the past beyond our control.
Memory in the wild has seized memory in the head.
Even our most mundane communicational acts are archival; we scatter digital traces of our selves just through being social, through working, or even by doing nothing, information pours out of our smartphones as we sleep. So, whereas media audiences had collective anonymity in their media consumption of the twentieth century, in today's digital media ecology, it is users that are made personally accountable. And the prospects for aspects of your life, acts, traces, emerging at unpredictable times in the future are massively increased. This idea of 'emergence' is important to understanding a key shift in the relationship between media and memory.
And I define emergence as the accidental or deliberate revealing of potentially transcendent hidden or forgotten media content (images, videos, emails, texts) to suddenly 'emerge' to transform what was known or thought to be known, about a person or organization.
One of my favourite illustrations of a shift from the relative stability of the broadcast twentieth century era of media to the new individual and organizational vulnerability of emergence is a memory I have from some 30 years ago.
I started my undergraduate life at Lancaster University, in the autumn of 1989 when the North-West of England was being culturally shaped through the 'Madchester' music scene that spawned such era-defining bands as Happy Mondays, Inspiral Carpets and The Stone Roses. One student, let's call him 'Tom'– lived on my corridor in Halls on campus, and managed to see one of the seminal Stone Roses' gigs that year, with some other 27,000 fans. To this concert he took his 'university' girlfriend, yet whilst still maintaining a relationship with another girlfriend from his hometown: one that preceded his new student life. Tom didn't negotiate these relationships but merely managed their separation, i.e. his girlfriend at home had no knowledge of his relationship with his 'other' (university) girlfriend.
However, one day I met Tom walking down a corridor brandishing a national UK tabloid daily (circulation then of over five million). A photograph of the sea of fans at the Stone Roses concert from the day before was splashed across the front page. Despite the crowd, clearly visible at the front was Tom with his arm around his university girlfriend. The separation of his two private relationships was collapsed through the sudden publicness of one of them.
'The game's up' he said. 'She (home girlfriend) didn't even know I was going to the gig. Now the whole world knows. What are the chances of that happening?'
And that is the key question: what are the chances of that happening? The sudden revelation or emergence of Tom's illicit relationship(s) was extremely improbable given the mass news media of 1989 being defined by print, radio and television. And yet, today, risk of digital emergence would have loomed large over Tom's hidden relationships.
How quickly we have forgotten the containment of the social worlds of twenty-century media! Today, in contrast, we all are burdened by a new unwieldy and uncontrollable, memory in the world.
One can say that the archive today eclipses the individual, driven by a new cultural and political force of what I call 'digitally fostered values'. These values are unbridled commentary, open access, freedom of information, the right to know, the immediacy of instant search, and confessional culture. But their untrammelled pursuit do not result in some democratisation of the past, but instead, the complexity and the scale of digital information and images muddies provenance, accountabilities and potential redress for versions of the past that have been hacked, manipulated, and reconfigured for a range of ends.
And yet, the obsession to digitally process life knows no end, part of a compulsion of connectivity – be this mundane or exceptional, public or private. This include attempts to arrest experience through the live capture of the everyday and the extraordinary through lifelogging, livestreaming on social media, GoPro, and of course the real or later time sharing of all of that which feeds these pervasive unblinking eyes. And I have long argued that the act of recording has become more urgent than experiencing that which is being recorded. Human imagination no longer seems sufficient for remembering, instead memory equates to having some kind of image or video for it to exist and to be valued.
In summary, although our everyday and pervasive acts of digital communication and the forging of connections, feel lively and also under our control with the comfort of immediacy, these actually belie a diminishment of consciousness of media. Can we ever look under the hood of our contemporary digital devices and know exactly where our selves are located, used?
Ultimately, digital existence weakens what was once an active memory, a human memory that had to work hard to sustain a continuity of past – of identity, of place, of relationships – with the shift from reliance to dependency on the search devices of our machines. Memory in today's post-scarcity culture is the displacement of the remembered, by the unremembered self.
At the same time, a growing dependency on an increasingly digital past, without clear finitude and driven by the compulsion of connectivity, distracts from a world slipping out of focus, in which memories of a wider social significance become impossible to grasp.
Bio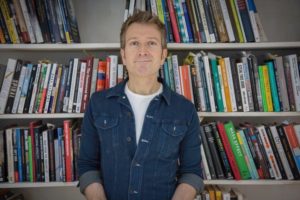 Professor Andrew Hoskins is Interdisciplinary Professor in the College of Social Sciences at the University of Glasgow. He was educated in Sociology at Lancaster University and lectured at Swansea (Media) and Warwick (Sociology) before joining Glasgow in 2011.
His research connects multiple aspects of emergent digital society: memory, war, anonymity, security, and privacy, to explore holistically the interplay of contemporary media and memory ecologies.
His championing of interdisciplinarity in Memory Studies includes his Memory in the Head and in the Wild, project with the cognitive scientist Professor Amanda Barnier, which probes if the human and social/cultural study of remembering and forgetting can or should be fruitfully connected.
He is Founding Editor-in-Chief of the new Journal of Digital War, Founding Editor-in-Chief of the Sage Journal of Memory Studies and founding Co-Editor of the Routledge book series Media, War & Security. His latest books are: Risk and Hyperconnectivity: Media and Memories of Neoliberalism (OUP 2016, with Tulloch); Digital Memory Studies: Media Pasts in Transition (Routledge 2018, Ed.) and Trump's Media War (Palgrave 2019, Co-Edited).
His current work includes research for books on Radical War and on Digital Forgetting.