By Lorenz Widmaier (Cyprus University of Technology)
Technology has made it easy to capture, store and share photographs at any place and time. Those who die today leave behind more photographs than ever before in diverse formats and on different platforms – how can heirs cope with this amount of data? Photographs today illustrate all areas of life, the most ordinary and the most intimate – what does this mean for the memory work of the bereaved? Photographs are published in social networks – how is public participation experienced in mourning?
These are some of the questions that my research on personal memory practices and digital death poses. Therefore, it was obvious to do my secondment in a museum that is "dedicated to the issues of dying, death, burial, mourning and remembrance" (sepulkralmuseum.de), and which, through the Central Institute for Sepulchral Culture, is dedicated to research itself.
"The Museum for Sepulchral Culture is the only independent institution committed exclusively to cultural and scientific standards that deals with the entire spectrum of the so-called Last Things" (sepulkralmuseum.de).
I encountered these last things right at the beginning when I moved into my office in the museum's photo archive. Thousands of slides are stored there, most of them not digitised – a real treasure chest for someone interested in photographs. I was given an introduction to the use of the archive, both the physical slide archive and the digital databases where more recent photos are archived. It was exciting to see how such an archive is actually managed, where I only knew the literature about archives.
During my time at the museum, there was the special exhibition LAMENTO – Mourning and tears taking place, which shows how artists deal with grief. It was a marvellous complement to my own research. I had the opportunity to participate in many guided tours and learned a lot about how death and mourning are dealt with today.
Did you know, for example, that you can have a diamond pressed from the ashes of a deceased person and wear it as a ring on your finger? Or that the HSV football club sells an urn for fans in club colours? Or that in Scandinavian countries there are still mourning women who lament the dead and thus help the bereaved? Also impressive were the exhibited photographs by Nancy Borowick, who photographed her parents, who were almost simultaneously diagnosed with terminal cancer. If you cannot make it to the museum, you should view the pictures here: http://www.nancyborowick.com/the-family-imprint/the-photographs/
For the planned continuation of the LAMENTO exhibition, I was able to assist in the curation process and to contribute parts of my own research. Especially my findings on how people mourn online today, be it in YouTube memorial videos, in closed Facebook mourning groups, or by bereaved people discovering their dead on Google StreetView and tweeting about them. Mourning today is individual and has many aspects, of which the digital is a new one, with new possibilities.
I was able to participate in the public relations work when the new website was launched and was able to use the museum's entire network to find interview partners for my research. I am sincerely grateful to all staff for this: for the many contacts to mourning groups, grief counsellors, pastoral workers, funeral directors, or hospices, for the opportunity to talk to innumerable visitors of the museum on my topic, and to be able to make my topic known to many people at public events.
During my stay in Kassel I was also able to conduct my first interviews for my research, and I would like to share this impressive experience with you. I can still remember well when I was in the middle of the literature review and doubted about if there is anything to add. My supervisor Theopisti Stylianou-Lambert always told me that I will be surprised what the interviews will bring up. And I was indeed very surprised! I was able to talk to people who have lost a partner, and to parents who have lost a child, and I learned many valuable things, not only for my academic work but also for me personally. Despite all the sadness, it was wonderful to see how essential and helpful memories are and therefore how important our work at POEM is. I am deeply impressed by the openness of my interview partners, to whom I owe a great debt of gratitude and respect.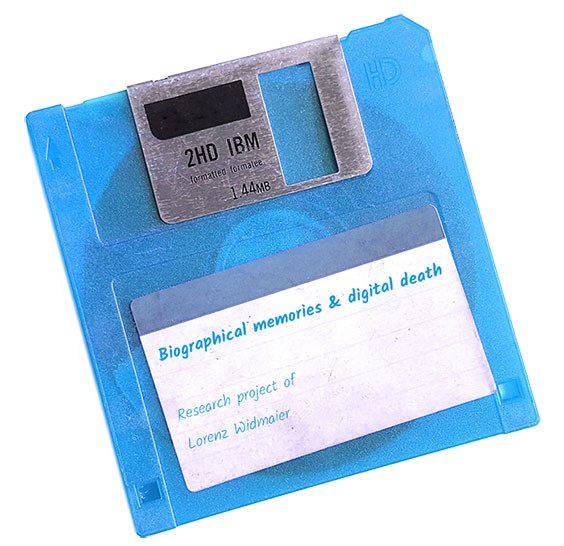 At this point, I would like to ask for your help! Currently, I am still looking for interview partners who have lost a family member or a close friend and who deal with a digital, photographic legacy. Do you know someone who has lost a loved one and inherited a lot of digital data? If so, I would be very pleased if you could get in touch with me. I have created a website with more details about my research and with an invitation to the interview. The site is available in English and German: https://www.memoryanddeath.com
I have never spoken so much about death as I did during these two months in the Museum of Sepulchral Culture and at the same time, it was a very lively time, with experiences that make life valuable. At the end of my stay, I left chocolates and a funeral card in the tea kitchen with the inscription "a farewell but not a forgetting". Thanks to the great team of the museum for the valuable insights, for the practical and reality-based training, and for the great support for my research!
---
Lorenz Widmaier is a PhD Candidate at the Cyprus University of Technology and his research interests are memory practices, death and mourning, photography, and visual sociology. He can be reached via lj.widmaier@edu.cut.ac.cy, and his project website is https://www.memoryanddeath.com. Follow him on Twitter: @lorenzwidmaier