By Paula Helm (Open University in Hagen/Germany)
The archive "German Memory" is located at the Open University in Hagen. The archive conducts, collects and provides biographic interviews with contemporary witnesses of German and European history. The interviews offer a true-to-life approach to 20th century history. They relate to outstanding places (cities and landscapes), historical events (e.g. first and second world war, the building and the fall of the Wall) collective experiences (e.g. childhood, migration and travel), cultural traditions and disappearing ways of working (e.g. coal mining).
All these places and events are woven into personal experiences and presented in moving and impressive life-stories. The constantly growing collection currently comprises 3000 interviews, the oldest of which were conducted in the 1970s. The audio and video interviews have an average duration of 3.5 hours and contain free narratives of the entire life story. About two thirds are transcribed and nearly all of the audio data has been digitised. Most of the interviews are in German, with a smaller number in other languages. The interviews are recorded in a database supplied with metadata. The metadata refer to the technical and material status (e.g. audio/video, formats, and transcription), the context of the interview (date, location, interviewer, and research project), biographical information about the interviewee and special topics of the interview.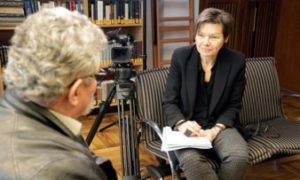 The archive is currently being curated by Almut Leh. In addition to that, the Digital Humanities research group at the Open University Hagen is working with the archive. Our research is concerned with the question how digital technologies can contribute to a socially inclusive memory culture that is based on personal storytelling by witnesses of the past. Our concern with the idea and challenge of finding ways to do memory culture in a participatory and social way, is what we share with the POEM network. The aim behind historical storytelling, more specifically, is to enable a take on history that moves beyond distanced and professional sources. Instead, oral history strives to give historical subjects their own voice. The move towards digitising these voices was in the first place driven in the interest of long-term preservation but additionally supports the insight that we need to do something with all these fascinating archives that we've built up in the last century and which confront us with the question how to fill them with life and promote them for re-uses by a broader public. In this virtue, we set out on a mission to develop and test new methods and applications, like audio mining, natural language processing, etc.
The initial assignment of the audio-recorded interviews was to be used for research and educational projects as well as for exhibitions and documentary films, thus contributing to the preservation and dissemination of knowledge and information on European cultural heritage. However, they could also be incorporated into educational material for history classes for secondary school pupils. We're currently working together with a group of computer scientists and game developers on a pilot project devoted to testing this option. The idea is to develop interactive storytelling applications featuring excerpts from the archived interviews. Those application shall provide approaches to memory culture that are also attractive for teenagers, who are currently mostly preoccupied with the future. We understand their concern about the future. We share it. But we also think that engaging with the past can teach us lessons about what we need to change in order to preserve the dignity and diversity of future living on this planet.
Digital methods and applications do not only open up new possibilities for the re-use of the biographic interviews stored in the Archive "German Memory". They also enable a kind of access across physical distances, where the sensorial qualities of these recorded stories, told directly in one take, do not get lost, like is mostly the case when working with written transcripts. While digitisation is often being construed as the counterpart to embodiment, it is in our case exactly the other way around: digitisation of biographical interviews helps to preserve and promote one of their specialties: to provide a multi-sensorial access to subjective historical experience – across time and space.
Why is it important to send biographical interviews on such virtual journeys? Why is it not enough to have them physically stored on magnetic tapes? The German Memory Archive is located in a structurally marginalized region of Germany, the Ruhr region. Having been the German centre of productivity for many decades, this region is now confronted with unemployment and shot down coal mines. Nevertheless there are (sometimes more, sometimes less successful) attempts to fill this region with new life: incentives are given to foster local art scenes, new research infrastructures are being built up, start-ups are being encouraged to set up new firms here and numerous community building projects are being supported by local governments.
The Archive "German Memory" can be considered a part of this ongoing structural transformation of the region. Nevertheless, till today, most people aren't aware of the heritage that is being housed on a little hill, overlooking brownfields in the one direction and spruce plantations in the other. With other words: The archive is in a tight spot, having to justify for the costs that it takes to preserve and curate it. Hagen is not Berlin, nor is it London. Digitalisation is here not a matter of optimization to be realized and performed by a creative and intellectual elite but a survival strategy. And it is also social work. It helps to get people involved who are otherwise off the radar, to spread ideas, to promote the region, its history and the activities taking place here.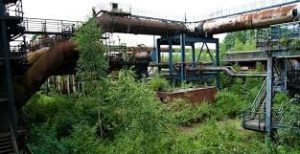 Apart from its ability to widen reach and provide access beyond physical constraints, the digitisation of large amounts of audio data also provides new options for research. There are numerous rumours sweeping across the sciences about the potentials that may (or may not?) lie in digital humanities: computer-aided methods cross the boundaries of traditional methods and new research terrain can be entered. Be it that much larger amounts of data can be introduced into studies and thus new and other questions can be processed immediately; or be it that completely new object areas are opened up, i.e. the possibility to describe unconscious speech-peculiarities and to prove them in large audio corpora.
No doubt: there lies great promise in digital solutions for the distribution as well as the analysis of audio data. Nevertheless, we are also sceptical about their consequences: Will we turn out as sufferers from an epistemological colonialization that replaces theory, care and interpretation with a submissive dependency on algorithmic truth making? How can we prevent people from abusing highly sensitive biographic material for undemocratic purposes, once it is out there, on the move through virtual depths and shallows? Many of those who provided their life-stories for the archive are today no longer alive. We hence can't ask them, what they think about the ways in which their stories are being re-used and whether they would reckon that these uses give them justice.
It is these kinds of questions and problems, which make us pause, while we're in the midst of a departure into a new era of sociotechnical research infrastructures. When pausing, we're memorizing. We recall some of our traditional methodological convictions: our belief in the power of narrative, the privilege of situated knowledge, and the truthmaking from the ground. We have once committed ourselves to these ideas for reasons that are today no timelier than they have been in the past. When doing Digital Humanities and sending life-stories on more than virtual journeys we therefore need to constantly ask ourselves: How much epistemological and methodological compromise is still productive? How to weight ends and means? How to prevent harm that is hard to undo once it has happened? In one sentence: How to do responsible, careful and successful research in a digital age? We hope that our collaboration with the POEM network will help us gain more clarity on this important question.
---
Paula Marie Helm is an Offenbach-based ethnographer and dedicated STS-researcher. She is coordinating the interdisciplinary research unit digital_culture at the Open University in Hagen/Germany. Her research interests lie in Critical Algorithm Studies, Value Sensitive Design, Privacy and Anonymity, NatureCultures and Addiction as a socio-technical phenomenon. She can be reached at paulahelm@posteo.de